Huge congratulations to Andy Vanburen and his wife Tania for both graduating together.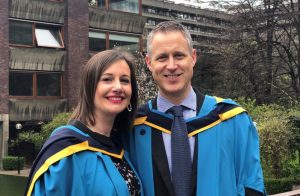 Congratulations to Andy and Tania Vanburen, who have recently completed their MBAs with The Open University. Although they studied side by side and graduated together, their routes to an MBA were very different.
Andy Vanburen left school after completing his GCSEs and joined a firm of accountants, studying one day a week for his AAT qualification. He gained chartered status with the ACCA, but had never studied for a degree. Tania Vanburen followed a more traditional route; studying law at a brick university and then gaining a postgraduate certificate in legal practice.